Hey everybody! Been a while. What's going on?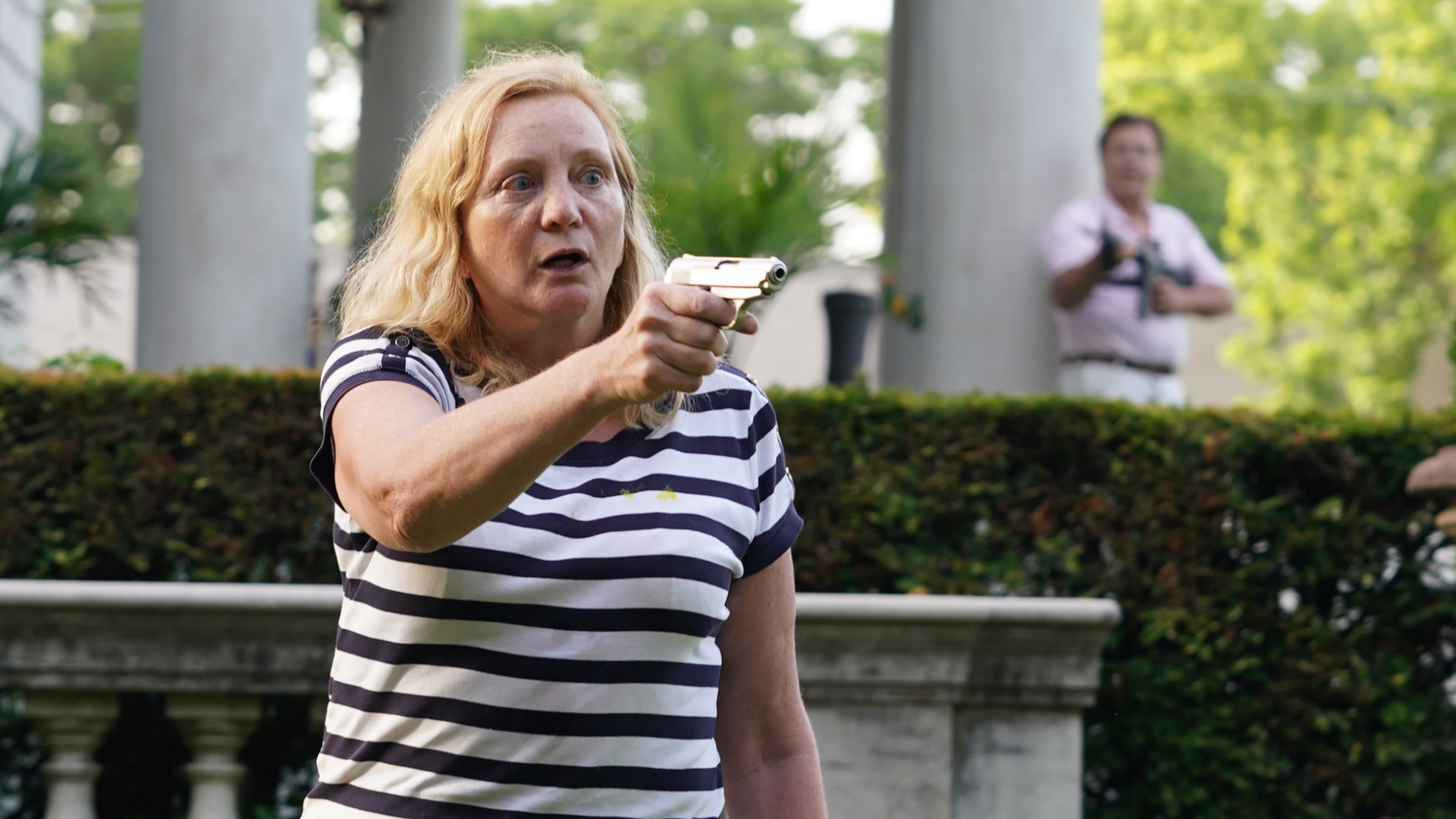 Oh…ok, cool. So just like usual stuff then? Got it.
Video of Mark McCloskey and Patricia McCloskey pointing guns at protesters walking by their home in St. Louis, Missouri on June 28, went viral on Twitter. The married couple, who work together as personal injury trial lawyers, came out of their house armed on Sunday to prevent protesters from walking onto their property in the Forest Park area.
The protest is over the terrible St. Louis mayor (Jesus. Seriously nothing has changed has it?) doing something really stupid and the only connection to the McCloskey's was that the protest happened to walk by their house. That's it. Nothing else. No one was touching their property. No one tried to smash one of their windows to steal Mr. McCloskey's collection of antique woven belts. Hell, no one even tried to put sticks in the sides of one of their little cone bushes to make it look like a gum drop man, and I really want to do that now, but nothing of the sort happened!
The McCloskey's don't let a little thing like nothing stop them! They have the look of a couple freshly whipped in to a frenzy by Sean Hannity to the point that they weren't sure if this was a protest or a Central American caravan, but no one was going to make eye contact with their old house that probably smells like tea tree oil, sadness, and old man farts! Not on their watch!
You know you're a crazy Boomer with too many guns and more back hair than weapons training when you get up and sprint out of your house and it's somehow easier to grab an automatic weapon then it is to find shoes!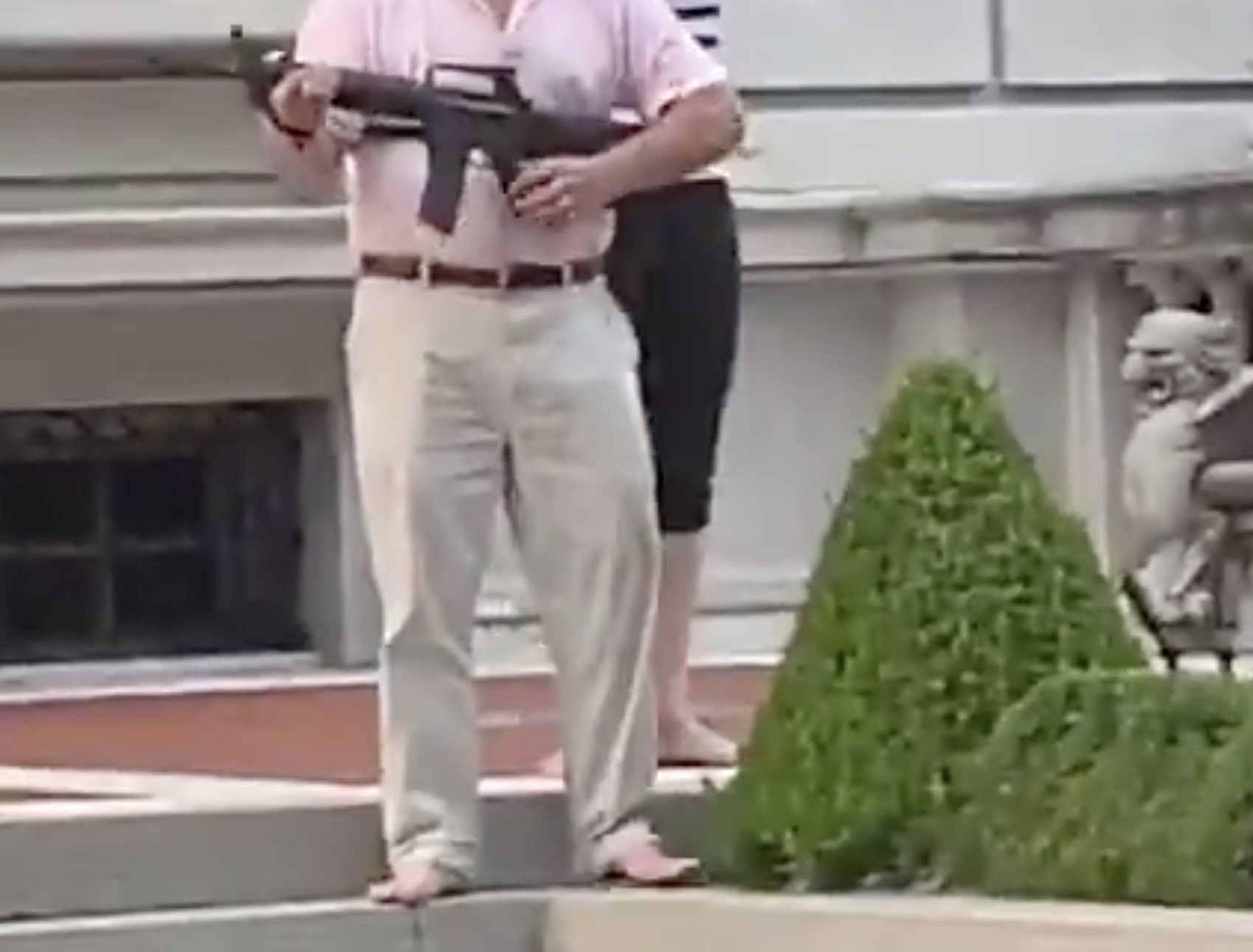 This guy thought there was a chance he would be going to war on his front porch with a large group of protesters and he didn't think shoes were essential? We should all be very thankful that McCloskey didn't walk out there and step on one of those little pointy landscaping rocks and accidentally blow someone's head off. That someone would have most likely have been his wife since "GI Karen and Bob" spent most of their time pointing the guns at each other while trying to yell at a crowd of people who did not give a single shit about them.
Where will this all lead? Who knows. Oh wait, we have a really good guess: They will lose some business at their law firm for this, but they will get the Fox News "attaboy" treatment and appear on several of their daytime shows before returning home to look in to each other's eyes and decide to really go for it on their retirement dream of that new safe room. "I'll make a call in the morning!" Mrs. McCloskey will shout across their comically large dinner table while Mr. McCloskey finishes the last few bites on his hard shell ground beef taco slathered in mild salsa. After dinner the two will retire to separate wings of their estate, the Mrs. cuddling up with a Oprah book club book (see, she's not racist) and the Mr. will head down to the study to Google search his name and then get upset before turning his attention to hard core pornography.
They'll be fine and yeah, maybe that crap see in their yard every morning does look a little too big to be from a dog, but it could be a dog. Yeah, it's probably a dog. I wouldn't worry about it.
Via Heavy, KSDK (who's article really wasn't about the random people pointing guns at peaceful protesters at all), Reddit, and thousands of people making fun of these dipshits on Twitter
Photos by Bill Greenblatt/UPI